EASTERN LESSER BAMBOO LEMUR
The two best places to see h.griseus on the tourist circuit are PERINET (=Andasibe), (ANALAMAZAOTRA SPECIAL RESERVE) and RANOMAFANA NATIONAL PARK. In these areas and elsewhere, it is most likely to be observed at dusk in stands of common bamboo. In Andasibe, a group is often seen in bamboo right next to an old warden's house near the fish ponds, in various bamboo stands on the trail into the indri viewing area, and even sometimes along the main road heading into ANDASIBE VILLAGE.
WESTERN LESSER BAMBOO LEMUR
This lemur is not easily seen and is apparently nowhere common. Opportunities exist in areas of dense bamboo in the TSINGY DE BEMARAHA NATIONAL PARK and in the ANKARANA SPECIAL RESERVE. Sightings are also possible around LAC BEMAMBA and in the MANONGARIVO special reserve, where one might have to spend several days to ensure success. According to Garbutt (1999), H. occidentalis also may be encountered in forests along the SAMBIRANO RIVER valley near the village of BENAVONY, southeast of AMBANJA, there are simple hotel accommodations in AMBANJA and better accommodations at ANKIFY nearby.
LAC ALAOTRA BAMBOO LEMUR
The best way to see this cryptic and elusive lemur is to travel by pirogue through the reed beds of LAC ALAOTRA. When water levels are low, it can also be seen by walking in and around the reed beds, but it is helpful to have experienced guides familiar with the animal. The best starting points are ANDREBA on the eastern side of the lake or ANDILANA ATSIMO on the western side. Both villages can be reached from AMBATONDRAZAKA. The main town on the lake's south side Ambatondrazaka offers simple hotel accommodation and 6 to 7 hours by car from Antananarivo.
SOUTHERN LESSER BAMBOO LEMUR
It is possible to see H. Meridionalis in the rain forest portion (Parcel I ) of the ANDOHAHELA NATIONAL PARK, especially along the road to COL de MANANGOTRY. This site is a few hours drive by car from FORT-DAUPHIN. This species can also be seen in the MANDENA CONSERVATION ZONE and in NAHAMPOANA RESERVE, approximately 20 minutes northeast of FORT DAUPHIN. Visitors hoping to see it can arrange for vehicles and hotels in FORT-DAUPHIN. "MIDONGY DU SUD" NATIONAL PARK is another place to see H.meridionalis, but only the well-seasoned traveler should try this site since the journey is difficult and can only be done during the drier months.
GOLDEN BAMBOO LEMUR
The golden bamboo lemur can be seen in Ranomafana National Park around the research station at Talatakely, but a visit of at least two or three days is recommended. Use of local guides to find this animal is essential.
GREATER BAMBOO LEMUR
The best location for seeing this species is Ranomafana National Park, which also holds populations of the other bamboo lemurs, H.griseus and H.aureus.Finding all three is possible, but requires time and perseverance as all three are secretive. Use of one of the local guides is highly recommended and greatly increases the likelihood of finding the animals, two of which are among the word's rarest and most endangered primates. The agricultural Station of Kianjavato near Ranomafana is also an excellent site for this species, but permission to visit Kianjavato is difficult to obtain for casual visitors.
RING-TAILED LEMUR
This species can be seen in all the protected areas within its range, but is most easily observed in ANDOHAHELA NATIONAL PARK, ISALO NATIONAL PARK, VOHIBASIA NATIONAL PARK, and ZOMBITSE NATIONAL PARK.
An interesting site to view L. Catta in Andohahela National Park is near the small village Ankazofotsy at the edge of the spiny desert portion of this protected area, about three by four-wheel drive vehicle from Fort-Dauphin. This trip is a rewarding experience that takes the visitor through an attractive piece of southern spiny desert that lightly inhabited by scattered villages of the Antandroy, the traditional people of this region.The sandstone cliffs and canyons of Isalo National Park are home to a wealth of rare plants in addition to ring-tailed lemurs, which are easily observed in the Canyon des Singes. The park can be reached by four wheel drive vehicle from Fort-Dauphin or from Tuléar by taxi-brousse. The populations associated with the mountainous region of Andringitra can be observed at camp Catta and at a community conservation site called Anjaha on the main road from Ambalavao heading towards Tulear.
COMMON BROWN LEMUR
In eastern Madagascar,E.filvus is easily seen at Andasibe (=Périnet) where it is one of the most common lemurs. In western Madagascar, it is very easy to find at the AMPIJOROA FORESTRY STATION IN ANKARAFANTSIKA NATIONAL PARK. The Anjajavy Hotel in northwestern Madagascar is also an excellent place to see this species, since it is found in the immediate vicinity of the hotel, is seen daily, and is completely habituated.
RED-FRONTED BROWN LEMUR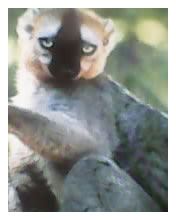 An excellent place to see the red fronted brown lemur in eastern Madagascar is RANOMAFANA NATIONAL PARK. April and May appear to be particularly good months for viewing, as chinese guava(Psidium spp.) is in fruit and lemur groups tend to gather near belle vue (garbutt, 1999).It the west, the KIRINDY FOREST, north of Morondava, offers the best opportunities for viewing this species. The Tsimbikibo forest near Mitsinjo is another possibility, although access can be problematic.
COLLARED BROWN LEMUR
E. Collaris is most easily seen in Mandena Conservation Zone,approximately 20 minutes east of Fort dauphin and in the Nahampoana reserve. The Mandena Conservation Zone can be visited with the guides by tourism office in Fort-Dauphin. Another site to consider is in the rain forest of the Andohahela National Park, especially on the way to find the bird red tailed newtonia bird in Manangotry. This area is a few hours drive by car and arrangements can also be made through all guides agree with Madagascar National Park in Fort-Dauphin town.
WHITE-COLLARED BROWN LEMUR
The best place to see the white-collared brown lemur is the Manombo Special Reserve and the associated classified forest, about 30 km south of Farafangana on the Route National 12 (Garbutt, 1999 ; J.Ratsimbazafy, pers.obs.). A paved road leads visitors to the edge of the reserve, where guest bungalows are now available.
The species can also be seen in the Mahabo Forest Reserve, 40 km south of Farafangana on the National Road 12 and about 7 km inland to the east on very rough dirt road. An alternative viewing site is the trip of forest just west of the town of VONDROZO on either side of National Road 27. Access to this site is a bit more difficult, especially during the wet season. Expedictions there can be arranged through Fort-Dauphin.
WHITE-FRONTED BROWN LEMUR
The white-fronted brown lemur can be seen in most forests throughout its range, but is difficult to observe for any length of time in the regions where it is hunted. Perhaps the easiest place to observe it is on the island of Nosy Mangabe about 5 km offshore in the bay of Antongil, a site that can be reached by boat in about 30 minutes from MAROANTSETRA. Introduced animals are also easily seen on Ile Roger or Aye-Aye Island. Close to the town of Mananara-Nord. Other sites to observe wild populations include the Forest near Ambanizana in Masoala National Park, between camps 1 and 2 in Marojejy National Park, and near Befingotra in the Anjanaharibe-Sud Special Reserve ( Garbutt, 1999). Finally, a free-ranging population also inhabits Parc Zoologique d'Ivoloina,about 12 km northwest of Tamatave,and can be readily observed by visitors.
SANFORD'S BROWN LEMUR
Both the "Montagne d'Ambre" National Park and the Ankarana Special Reserve are good places to see SANFORD' BROWN LEMUR. It often can be seen close to park headquarters and along the botanical trail of Petite Cascade in "Montagne d'Ambre". In Ankarana, it is most easily observed in the canyon Forest and around the campsite at "Campement des Anglais", but can be seen in other parts of the reserve as well (Garbutt,1999).
BLACK LEMUR
The best places to see the black lemur are on the island of Nosy Komba, located a short distance by boat from Nosy Be, as well as in the Lokobe Strict Nature Reserve on the island of Nosy Be. On Nosy Komba, a largely degraded island, several groups of black lemur come to a feeding site where the tourists can offer them bananas sold by local villagers. The animals are habituated and will even sit on the visitor, providing he or she remains calm. To see animals in more natural habitat, one can visit the Lokobe Strict Natural Reserve near the capital city of Hell-ville. Several enterprising villagers run tours to the edge of the reserve. The tours include an outrigger canoe ride, a walk in the forest (where the gray-backed, sportive lemur, lepilemur dorsalis, can also be seen), and a picnic. Both of the sites described above are now on the regular tourist circuit and are a must for first –time visitors to Madagascar. The small population of introduced black lemurs on Nosy Tanikely near Nosy Komba easily observed.
BLUE-EYED BLACK LEMUR or SCLATER'S BLACK LEMUR
The blue-eye black lemur is most readily observed in remaining forest patches just south of Maromandia on the main road from Antananarivo to Diego-Suarez). Additionally, animals can be seen in remaining forest patches on the Sahamalaza Peninsula. For example, the Ankarafa forest can be reached by a one-hour boat trip from Analalava to the small village of Marovato, and from there a hike of about two hours inland. Analalava is being served weekly by Air Madagascar. The Sahamalaza Peninsula can also be reached by pirogue from Maromandia. In the beginning of 2005, a local guide association was in the process of being formed, and use of local guides essential to find this species.
RED-BELLIED LEMUR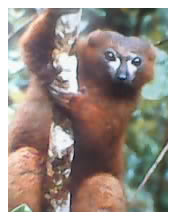 The best place to see this species is in Ranomafana National Park, where it is common and where groups have been habituated along the main trail network. When the chinese guava is in fruit (May and June) red-bellied lemurs are usually easy to find around Belle Vue along with E.rufus(Garbutt,1999). This species also can be seen on occasion in the Analamazaotra Special Reserve, in Mantadia National Park, and in Anjanaharibe-Sud Special Reserve in northeastern Madagascar, but it is quite rare in these reserves.
CROWNED LEMUR
The best places to see crowned lemurs are the Ankarana Special Reserve and the "Montagne d'Ambre" National Park. In ankarana, several groups have been habituated in the area of the "campement des Anglais" and Lac vert and they are easily found elsewhere in the reserve as well. In "Montagne d'Ambre" they can be seen quite close to the main campsite, the Station des Roussettes, and the viewpoint overlooking the grande cascade (Garbutt, 1999). The species is also common in Daraina and easy to see there, although not as evident as Propithecus tattersalli.
MONGOOSE LEMUR
The mongoose lemur is most readily seen at the AMPIJOROA FORESTRY STATION in ANKARAFANTSIKA NATIONAL PARK. The station is about a two-hour drive from Mahajanga along the main highway to Antananarivo and there is now comfortable lodging available. Other potential viewing sites are in the Tsimbikibo forest northwest of Mitsinjo, around Lac Kamonjo approximately 90 km west of the Betsiboka estuary, and in the Anjamena forest on the eastern bank of the Mahavavy River (Garbutt,1999),but access to these sites is essentially limited to the dry season. The species can also be seen at Katsepy, right across the Betsiboka River from Mahajanga, which is also an excellent site to see Propithecus coronatus.
BLACK-AND-WHITE RUFFED LEMUR
The best bet for seeing this species in the wild is in the Betampona Strict Nature Reserve, approximately 45 km north of Tamatave. The reserve is somewhat difficult to reach because of the poor condition of the road, but is the most accessible site for this subspecies. A permit from Madagascar National Park is also required.
SOUTHERN BLACK-AND-WHITE RUFFED LEMUR
Varecia variegata editorum can be seen in Mantadia National Park,especially around Km 15, although sightings are by no means guaranteed. It is also regulary observed in Ranomafana National Park, about an hour-and-a-half walk from the talatakely research site, and at Kianjavato, not far from Vatovavy on the road to Mananjary.
WHITE-BELTED BLACK-AND-WHITE RUFFED LEMUR
Varecia variegata subcincta is most readily seen on the island of Nosy Mangabe, which can be reached easily by small boat from Maroantsetra, a trip of only about 30 minutes. Good camping facilities are available and camping permits must be obtained from the local Madagascar National Park office for overnight stays. A number of convenient tent platforms are provided. A motorized pirogue trip from Maroantsetra up the Antainambalana River may also be worthwhile, but finding this species on the mainland is much more difficult there than on Nosy Mangabe.
This ruffed lemur is a bit more challenging to observe in the wild in the Mananara-Nord National Park, as there is little infrastructure in place to facilite visits. A permit is required from the Madagascar National Park office in Antanambe .Access to the park is possible via a three hour walk from Sandrakatsy, a small town served by taxi-brousse from Mananara. Once in the park, there are no good trails and this species is usually one of the most difficult lemurs to find.
RED RUFFED LEMUR
The only place to see red ruffed lemurs is on the Masoala Peninsula. Boat trips can be arranged from Maroantsetra to Andranobe, Ambanizana, Lohatrozona or Tampolo where there are several rustic but comfortable lodges. A nice package trip is to spend one night on Nosy Mangabe, which is quite close to the Masoala Peninsula, and then do a day visit to the Masoala to any of the previously mentioned sites. This species is relatively easy to find due to its loud vocalizations, which can often be heard from a significant distance.